As you lovelies know, I'm going to be having another baby in January. Now, I don't know about you, but I could always use new fluff in my stash. I could really use a boost for Squishy's diaper stash! I'm going to be participating in a great blog event and I'd love for you to check it out too!
We're Parents!?
is hosting this amazing event to get you started with everything you need to start a fluff stash or grow your stash for the New Year.
The event will run from December 1st - 22nd and showcase some amazing companies, including some great WAHMs (work at home moms).
Because of our phenomenal sponsors, this HUGE giveaway event will bring you the best products in the market so make sure you are following so you don't miss out!
Are you ready? I know I am! Be here on December 1st!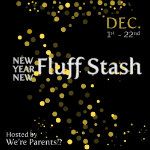 <div align="center"><a href="http://wereparentsnj.blogspot.com/search/label/New%20Year%20New%20Fluff%20Stash%20Giveaway%20Event?max-results=100" title="We're Parents!?"><img src="http://i1152.photobucket.com/albums/p481/wereparents/FluffStashBanner1_zps70aadbf2.jpg" alt="We're Parents!?" style="border:none;" /></a></div>